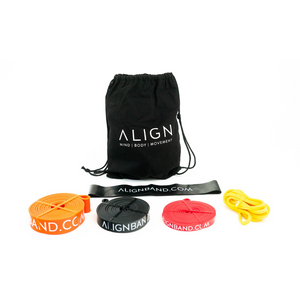 The Total Strength Kit is the all-encompassing Strength Set.
Kit includes 5 bands and a door anchor.
HEAVY DUTY: Elastic exercise band and mesh carrying case includes with 14 posture correcting, structure mobilizing, therapeutic self care online video guides, and door anchor to get you started on your posture imbalances, muscle knots, and spinal alignment. (40-80 LBS)

MUSCULAR IMBALANCES: Most everyone has a dominant side of their body, for as long as you've moved your body, one side has worked harder than the other sitting with your legs crossed, standing on one hip, carrying a bag over one shoulder, etc. Align Band exercises teach you self care techniques to bring balance back to your body.

PERFECT POSTURE - Reduce neck and back pain associated with bad posture. Align Band strengthens stabilizer muscles helping to improve posture and eliminate pain associated with bad posture. Exercises build body awareness improving posture and help realign your body from inside out.

REDUCE INJURIES: Increases in range of motion assist muscle pliability and resilience to injury. down time recovery and away from training. Align Band exercises address weak links in your kinetic chain before they become an issue.

ENHANCED MOBILITY: Mobility and range of motion declines with age. Align Band exercises are shown to increase range of motion joints and muscles.